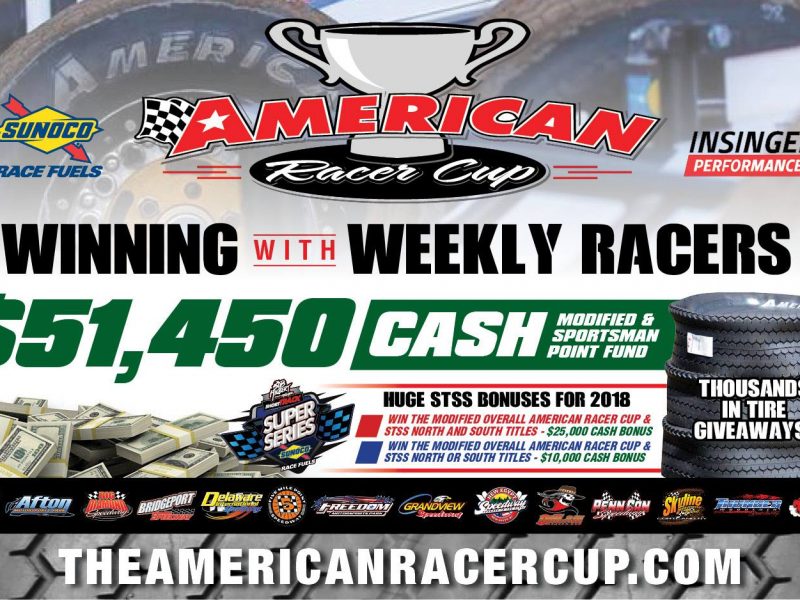 MILLSBORO, DE – For the ninth consecutive season, the American Racer Cup presented by Sunoco Race Fuels will "win with weekly racers" in 2018.
The lucrative "home-track" program for Modified and Sportsman competitors across four states gets underway on Friday, April 13. Points will be tracked through Labor Day weekend with overall, regional and home-track champions crowned.
A cash point fund of $51,450 for Modified and Sportsman teams is in place, with thousands more in tire giveaways planned.
Competitor registration for '18 is ongoing. As of March 26, a total of 178 drivers have signed up for the program: 103 Modifieds and 75 Sportsman. Drivers may register through May 1.
Racers from 14 facilities utilizing American Racer tires in New York, New Jersey, Pennsylvania and Delaware, by simply competing at their home track(s), have the opportunity to share in rewards thanks to the American Racer Cup and sponsors Sunoco Race Fuels, Lias Tire and Insinger Performance.
At year-end, Modified competitors (top-15 American Racer Cup overall as ranked among the participating tracks) will share in a $36,000 cash point fund. Rankings are determined by a driver's 10 best finishes at a participating speedway, with a car count bonus issued at year end.
The overall Modified point fund for 2018 is as follows: 1) $10,000; 2) $5,000; 3) $4,000; 4) $3,500; 5) $2,500; 6) $2,000; 7) $1,750; 8) $1,500; 9) $1,250; 10) $1,000; 11) $900; 12) $800; 13) $700; 14) $600; 15) $500.
Bruce Insinger of Insinger Performance has posted another $5,700 in regional cash ($2,850 to each region). Drivers in both the North and South regions will be eligible for the following point fund: 1) $1,000; 2) $750; 3) $500; 4) $350; 5) $250.
Each track is eligible for 12 tires to be given away during the season, not to mention pre-season drawings for registered drivers and a 'Dog Days of Summer' tire given away on Aug. 1 to each speedway's point leader.
At year-end, the top-five in the American Racer Cup individual track Modified points will receive: champion – five tires; second – four tires; third – three tires; fourth – two tires; fifth – one tire.
The American Racer Cup is one half of a huge bonus program teamed with the Bob Hilbert Sportswear Short Track Super Series (STSS) Fueled By Sunoco. Should a driver win the overall American Racer Cup and both the North and South regions of the STSS, they will collect a $25,000 cash bonus courtesy of Sunoco and Insinger Performance. A driver winning the American Racer Cup overall and the North or South STSS will pocket $10,000 cash.
Sportsman (top-15 American Racer Cup overall as ranked among the participating tracks) at year-end will share in the following $6,750 point fund: 1) $1,500; 2) $1,000; 3) $750; 4) $600; 5) $500; 6) $450; 7) $400; 8) $350; 9) $300; 10) $250; 11) $200; 12) $150; 13-15) $100.
Insinger Performance Regional bonuses ($3,000 total – $1,500 each region) are in place for Sportsman North and South Regions: 1) $500; 2) $400; 3) $300; 4) $200; 5) $100.
Each track will distribute 12 certificates worth $85 off the purchase of an American Racer tire via a random drawing of registered racers. One tire will be awarded to the highest-ranked, registered driver in point standings at each participating speedway as of Aug. 1.
Year-end home track tire awards for Sportsman competitors are as follows: champion- two tires; second – one tire; third – $85 certificate.
Two pre-season giveaways have already taken place. The first, in January at the Motorsports Racecar & Trade Show in Oaks, Pa., with Joe Dgien (Modified) and Bobby Bracall (Sportsman) the recipients.
At Georgetown (Del.) Speedway on March 17, a second, larger random drawing took place. Modified recipients were Travis Smith, Jeff Bubori, Donnie Lawson and Dgien. In the Sportsman division, Kenny Hammond, Adam White, Ryan Stone and Stephen Kemery earned the free tire certificate.
To learn more about the American Racer Cup, visit the official website at www.theamericanracercup.com, e-mail bdmotorsportsmedia@gmail.com, follow on Twitter @racer_cup or on like Facebook: American Racer Cup.
AMERICAN RACER CUP PRESENTED BY SUNOCO 2018 MEMBER SPEEDWAYS
Accord Speedway
Divisions: Modified, Crate Sportsman
Afton Motorsports Park
Divisions: Modified, Open Sportsman, Crate Sportsman
Big Diamond Speedway
Divisions: Modified, Open Sportsman
Bridgeport Speedway
Divisions: Modified, Crate Sportsman
Delaware International Speedway
Divisions: Modified, Crate Sportsman
Five Mile Point Speedway
Divisions: Modified, Crate Sportsman
Freedom Motorsports Park
Divisions: Modified
Grandview Speedway
Divisions: Modified, Open Sportsman
New Egypt Speedway
Divisions: Modified, Open Sportsman, Crate Sportsman
Outlaw Speedway
Divisions: Modified, Crate Sportsman
Penn Can Speedway
Divisions: Modified, Crate Sportsman
Skyline Raceway Park
Divisions: Open Sportsman, Crate Sportsman
Thunder Mountain Speedway
Divisions: Modified, Open Sportsman, Crate Sportsman
Woodhull Raceway
Divisions: Modified, Crate Sportsman