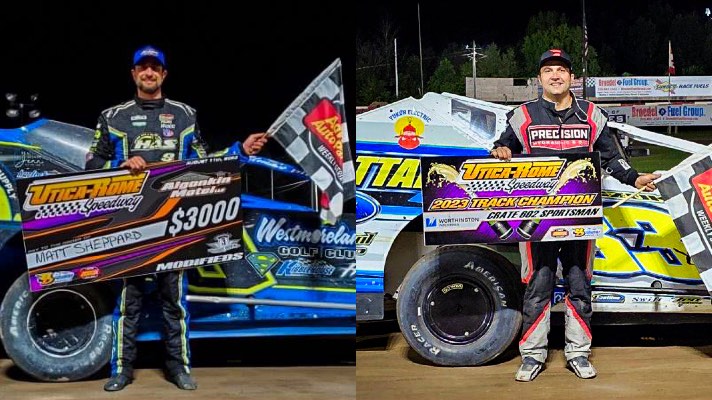 Written by Chris Moore
MILLSBORO, DE – For the fourth time in his illustrious career, Savannah, N.Y.'s Matt Sheppard is the 2023 American Racer Cup Champion presented by Sunoco Race Fuels.
After losing out on the 2022 championship on a tiebreaker, Sheppard left no doubt in 2023, with his 11 wins at Utica-Rome Speedway in Vernon, N.Y., netting him his first American Racer Cup Championship since 2019.
Sheppard was the only driver to reach the 700-point maximum threshold, completing the 2023 season with two wins in three nights at his Friday night home track.
The American Racer Cup collects each racer's 10 best finishes at their registered home track combined with a year-end starting field bonus to calculate a driver's total points.
In the event of a tie for the title, the established tiebreaker is a driver's number of wins at the participating speedway between Friday, April 14 and Monday, Sept. 4.
In a rain-soaked season in which Utica-Rome Speedway only registered 15 features in the American Racer Cup season, Sheppard still clicked off the 11 wins to clinch the 2023 championship.
The title for Sheppard nets him a total of $11,000 from the American Racer Cup on behalf of presenting sponsors American Racer, distributor Lias Tire of Indiana, Pa., Sunoco Race Fuels and distributor Insinger Performance of Dushore, Pa.
A $36,000 purse is divided amongst the top-15 drivers in the overall Modified standings with $10,000 reserved for Sheppard, the overall champion. Sheppard also claims $1,000 as the North Region champion of the American Racer Cup.
Defending champion Ryan Godown settled for the runner-up spot this year after his stellar year at N.J.'s New Egypt Speedway. The Ringoes, N.J., native won six times this season at his Saturday night home, for a 655-point total and second place.
Godown takes home $6,000 as the runner-up in the overall standings and the South Region title.
Orefield, Pa.'s Brett Kressley came home third in the overall standings, just five points behind Godown. Kressley claimed three wins at Grandview Speedway in Bechtelsville, Pa., this season, enough for 650 points.
Kressley also finished seventh in the overall standings at Big Diamond Speedway in Minersville, Pa. In total, Kressley takes home $7,000 for his overall finishes, in addition to second and third, respectively, in the South Region standings.
For the first time ever, two Canadian tracks joined the American Racer Cup, and St. Damase, Quebec's David Hebert came home fourth for his efforts at Autodrome Granby with 640 points. Hebert nets $4,250 as the runner-up in North Region standings and the overall fourth-place finisher.
A tie for fifth place rounds out the top five, as a pair of Woodhull (N.Y.) Raceway regulars notched 635-points each.
Ajay Potrzebowski and Joe Dgien each share the prize money for fifth and sixth in the overall standings and third and fourth in the North Region standings. In total, they'll each receive $2,675 for their 2023 efforts.
Finishing eighth through 15th, respectively, were Jeff Strunk of Grandview Speedway (625 points – $1,850); Duane Howard of Big Diamond Speedway (624 – $1,500); Brett Tonkin of Afton (N.Y.) Motorsports Park (619 – $1,250); Craig Von Dohren of Grandview Speedway (617 – $900); Doug Manmiller, also of Grandview (610 – $800); Billy Pauch Jr. of New Egypt Speedway (606 – $700); and 14th and 15th both went to Louden Reimert at Big Diamond and New Egypt Speedway. Louden had 602 points at each track, netting $1,100 total.
On the Sportsman side, Durhamville, N.Y.'s Matt Janczuk notched his third consecutive American Racer Cup Championship at Utica-Rome Speedway.
Janczuk once again clicked off a 10-win season, achieving the maximum 700 points and earning a $2,000 paycheck for his championship efforts.
Upper Makefield, Pa.'s Joe Toth comes home as the runner-up with 670 points at the New Egypt Speedway. Toth collects $1,500 as the overall runner-up and the South Region champion.
Payton Talbot claims both the third and fourth (658 and 656 points) positions for his work at the Utica-Rome and Fonda speedways. Ultimately, Talbot takes home the biggest check from the Sportsman American Racer Cup, with a $2,050 paycheck for his efforts at both tracks.
Rounding out the top five was Kenny Peoples Jr. with 650 points at the Woodhull Raceway. Peoples Jr. nets a $700 total for his fifth-place finish.
The remainder of the top-15 were Logan Watt of Grandview Speedway (636 points – $850); Mike Schane of Penn Can Speedway in Susquehanna, Pa. (613 – $700); Travis Hill of N.J.'s Bridgeport Motorsports Park (612 – $550); Dale Welty of Afton (608 – $400); Matt Brewer of Afton (602 – $250); Chad Edwards of Fonda (590 – $200); Logan Watt of Big Diamond (589 – $250); Isabel Barron of Woodhull (578 – $100); Todd Titus of Afton (577 – $100); and Matt Ellery of New Egypt (569 – $100).
The top-five drivers in the Modified division at all home tracks receive three free tires for first, two for second, one for third, fourth, and fifth.
In the Sportsman division, home track champions receive three tires, second-place two tires and third receives one tire.
The American Racer Cup track champions are determined by a driver's 10 best finishes at that track.
More than $51,000 in cash will be distributed to American Racer Cup participants.
American Racer Cup 2023 One-on-One Match Races will take place at Afton Motorsports Park Friday-Saturday Oct. 6-7 for American Racer Cup Short Track SuperNationals Weekend. Keep posted for further information.
To learn more about the American Racer Cup presented by Sunoco Race Fuels and to view complete point standings, visit the official website at www.theamericanracercup.com.
AMERICAN RACER CUP TRACK CHAMPIONS:
Accord Speedway: Justin Holland (Modified), Hunter Lapp (Sportsman)
Afton Motorsports Park: Brett Tonkin (Modified), Dale Welty (Sportsman)
Autodrome Granby: David Hebert (Modified), Antoine Parent (Sportsman)
Big Diamond Speedway: Brett Kressley (Modified), Logan Watt (Sportsman)
Bridgeport Motorsports Park: Jordan Watson (Modified), Travis Hill (Sportsman)
Fonda Speedway: Alex Yankowski (Modified), Payton Talbot (Sportsman)
Georgetown Speedway: Danny Bouc (Modified), Joe Toth (Sportsman)
Grandview Speedway: Brett Kressley (Modified), Logan Watt (Sportsman)
Le RPM Speedway: David Hebert (Modified), Antoine Parent (Sportsman)
New Egypt Speedway: Ryan Godown (Modified), Joe Toth (Sportsman)
Outlaw Speedway: Danny Johnson (Modified), Justice Mayo (Sportsman)
Penn Can Speedway: Kevin Hartnett (Modified), Mike Schane (Sportsman)
Utica-Rome Speedway: Matt Sheppard (Modified), Matt Janczuk (Sportsman)
Woodhull Raceway: Ajay Potrzebowski II & Joe Dgien (Modified), Kenny Peoples Jr. (Sportsman)