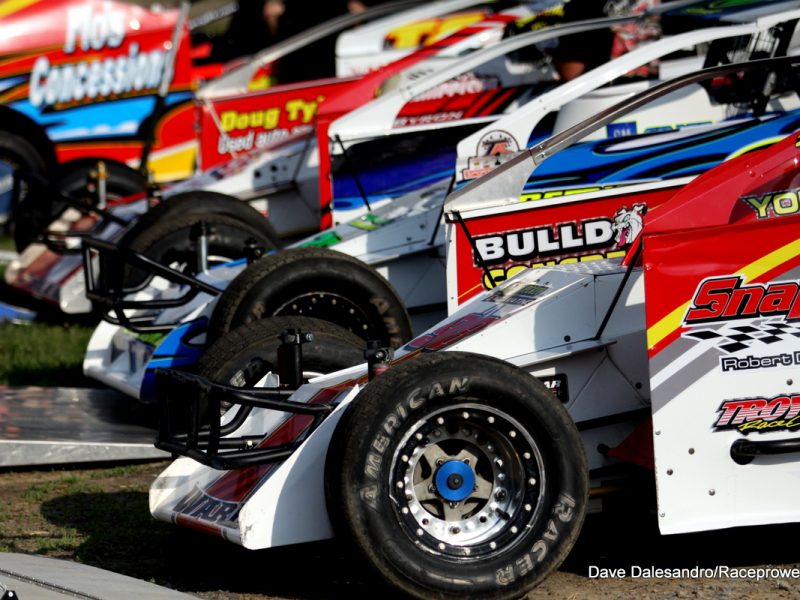 INDIANA, PA – The American Racer Cup presented by Sunoco Race Fuels is set for its eighth season of rewarding weekly racers in 2017.
Thirteen facilities – spanning New York, New Jersey, Pennsylvania and Delaware – comprise the program, with $51,450 cash earmarked for Modified and Sportsman competitors in addition to thousands in tire giveaways and other product.
The American Racer Cup program will be managed by BD Motorsports Media LLC in '17, with support from American Racer and regional distributor Lias Tire Company of Indiana, Pa.
Registration is now open for the new season on a recently launched website: www.theamericanracercup.com.
At year-end, Modified competitors (top-15) will share in a $36,000 cash point fund. Rankings are determined by a driver's 12 best finishes at a participating speedway, with a car count bonus issued at year end.
The Modified point fund for 2017 is as follows: 1) $10,000; 2) $5,000; 3) $4,000; 4) $3,500; 5) $2,500; 6) $2,000; 7) $1,750; 8) $1,500; 9) $1,250; 10) $1,000; 11) $900; 12) $800; 13) $700; 14) $600; 15) $500.
Bruce Insinger of Insinger Performance has posted another $5,700 in regional cash. Drivers in both the North and South regions will be eligible for the following point fund: 1) $1,000; 2) $750; 3) $500; 4) $350; 5) $250.
Drivers' best 12 finishes at their home tracks and bonus points from newly announced American Racer Cup Challenge events will determine the regional champions. American Racer Cup Challenge races will be select events on the Short Track Super Series Fueled By VP schedule offering 25 bonus points to the winner, back to 10 for last and five for those unable to qualify.
Modified American Racer Cup Challenge races selected for '17 are, in the South Region, the 'South Jersey Shootout' at N.J.'s Bridgeport Speedway on April 23 and the 'Diamond State 50' at Delaware International Speedway May 25; in the North Region, the 'Battle of the Bullring 5' at N.Y.'s Accord Speedway July 3 and the 'Hustlin the High Banks 53' at Woodhull (N.Y.) Raceway August 22.
Like their Modified counterparts, the top-15 Sportsman will share in a cash point fund based on their 12 best home-track finishes and car count bonus.
For 2017, the Sportsman point fund is 1) $1,500; 2) $1,000; 3) $750; 4) $600; 5) $500; 6) $450; 7) $400; 8) $350; 9) $300; 10) $250; 11) $200; 12) $150; 13) $100; 14) $100; 15) $100.
A regional distribution courtesy of Insinger Performance is an added incentive for Sportsman teams. The following point fund will go to North and South competitors: 1) $500; 2) $400; 3) $300; 4) $200; 5) $100.
American Racer Cup Challenge events are on the schedule for Sportsman racers, as well. In the North, events will be at I-88 Speedway in Afton, N.Y., June 21 (Crate) and Skyline Raceway in Blodgett Mills, N.Y., July 18 (Open). South events are planned for Delaware International May 25 (Crate) and Big Diamond Speedway in Minersville, Pa. June 6 (Open).
Aside from cash, hundreds of American Racer tire certificates will be handed out over the course of the season. The first tire drawing of the season for both Modified and Sportsman is scheduled for Jan. 22 at the Motorsports 2017 Race Car & Trade Show in Oaks, Pa., for early entries. Participants do not need to be present to win.
Complete '17 American Racer Cup information can be found on the new website.
Member Speedways: https://theamericanracercup.com/?page_id=32
Modified Program Overview: https://theamericanracercup.com/?page_id=24
Sportsman Program Overview: https://theamericanracercup.com/?page_id=53
Tire Giveaway Summary: https://theamericanracercup.com/?page_id=30
To learn more about the American Racer Cup, visit the official website at www.theamericanracercup.com, e-mail bdmotorsportsmedia@gmail.com, follow on Twitter @racer_cup or on like Facebook: American Racer Cup.
American Racer Cup Presented By Sunoco Championship History
2016
Andy Bachetti (Modified)
Andrew Smith (Sportsman)
2015
Rick Laubach (Modified)
Alan Barker (Sportsman)
2014
Duane Howard (Modified)
Jared Umbenhauer (Sportsman)
2013
Duane Howard (Modified)
Jordan Watson (Sportsman)
2012
Duane Howard (Modified)
2011
Billy Pauch Sr. (Modified)
2010
Duane Howard (Modified)