Matt Sheppard (Modified) & Doug Hendricks (Sportsman) Declared 2019 American Racer Cup Overall Champions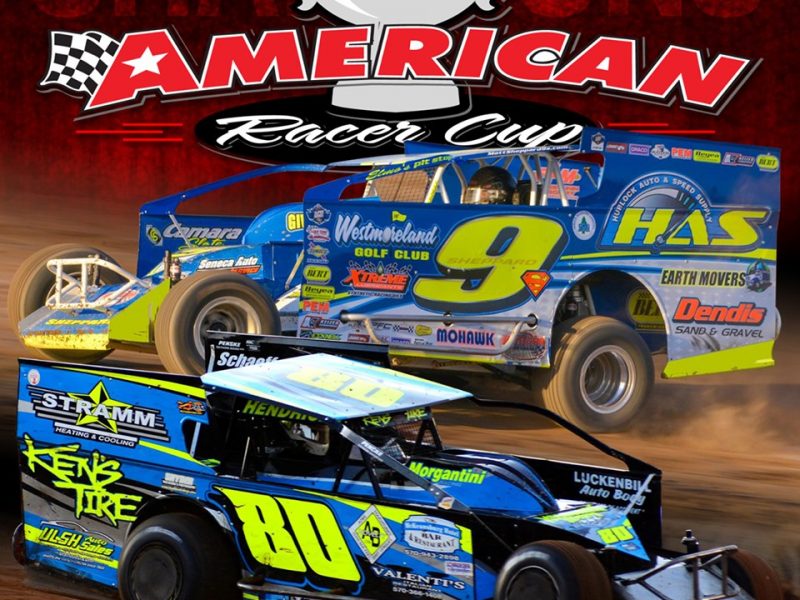 INDIANA, PA – After a summer full of racing at 14 facilities in four states, the 2019 American Racer Cup presented by Sunoco champions have been declared.
Matt Sheppard (Modified) and Doug Hendricks (Sportsman) lead this year's contingent. Competitors at tracks utilizing American Racer tires in New York, New Jersey, Delaware and Pennsylvania vied for supremacy in the 'home-track' program presented by American Racer Tires, Lias Tire Company, Sunoco Race Fuels and Insinger Performance.
A total of 299 competitors registered and earned points during the '19 season: 173 in Modified and 126 in Sportsman.
The American Racer Cup utilizes a driver's best 10 finishes to determine the overall standings with bonus points figured in for each track's year-long average starting field.
A total of $51,450 in cash will be distributed to top performers in addition to hundreds of tire certificates which have been handed out during the season in addition to many more to come this fall.
Using Outlaw Speedway in Dundee, N.Y., as his home track, Savannah, N.Y.'s Sheppard is the American Racer Cup Modified champion for the third consecutive year.  Sheppard assembled a 'perfect 10' on the season, winning 10 feature events at Tyler Siri's facility and accrued 670 total points.
The overall American Racer Cup title is worth $10,000 for Sheppard.
Duane Howard, representing Grandview Speedway in Bechtelsville, Pa., tallied 660 points – just 10 shy of Sheppard – and finished second overall, worth $5,000.
Fonda (N.Y.) Speedway joined the American Racer Cup family this season and Stewart Friesen of Sprakers, N.Y., placed third overall ($4,000) calling the Track of Champions home around his NASCAR Gander Outdoors Truck Series schedule. Friesen totaled 650 points.
Grandview's Jeff Strunk of Boyertown, Pa., rallied to fourth with 542 points ($3,500) with Jordan Watson of Milford, Del., calling Delaware International Speedway in Delmar, Del., placing fifth (640 points – $2,500).
Craig Von Dohren of Oley, Pa., tied Watson with 640 points for his Big Diamond Speedway (Minersville, Pa.), season. But Watson's six wins to Von Dohren's five relegated Von Dohren to sixth ($2,000). Rocky Warner of Gloversville, N.Y., earned 637 points and $1,750 for finishing seventh racing at Fonda. Craig Von Dohren, this time for Grandview, was eighth with 637 points but had four wins to Warner's five, so he takes home $1,500.
The Pauch family – Billy Sr. and Jr. – authored identical seasons at the New Jersey tracks. Billy Jr. at New Egypt and Billy Sr. at Bridgeport both accrued 635 points with five wins, three seconds and two thirds. Ninth-place pays $1,250 and 10th is $1,000.
Completing the top-15 are Ryan Godown of Ringoes, N.J., from Big Diamond (632 points – $900); Brett Kressley of Orefield, Pa., from Grandview (623 points – $800); David Van Horn Jr. of Ringoes, N.J., from New Egypt (616 points – $700); Billy Van Pelt of Westfield, Pa., from Woodhull (N.Y.) Raceway (615 points – $600); and Brian Malcolm of Lake Ariel, Pa., from Penn Can Speedway in Susquehanna, Pa. (615 points – $500). Van Pelt had five wins to Malcolm's three.
Insinger Performance of Dushore, Pa., sponsors separate North and South Region point funds, as well.
The top-five North Region drivers are Sheppard ($1,000), Friesen ($750), Warner ($500), Van Pelt ($350) and Malcolm ($250).
In the South Region, Howard ($1,000) won over Strunk ($750), Watson ($500), Von Dohren ($350) from Big Diamond and Von Dohren from Grandview ($250).
Doug Hendricks of Orwigsburg, Pa., put his name in the history books as the American Racer Cup Sportsman overall champion. Hendricks raced weekly at Big Diamond Speedway and used seven wins in his best 10 finishes to rack up 655 points. The overall Sportsman championship pays $1,500.
Hendricks and Brad Brightbill, a Sinking Spring, Pa., native who competes at Grandview Speedway, were deadlocked with 655 points. Brightbill had four wins at Grandview to Hendricks' aforementioned seven, so Hendricks is the champion.
Brightbill receives $1,000 for his efforts.
Michael Schane of Lake Ariel, Pa., from Penn Can Speedway finishes third with 635 points ($750) followed by Tim Hartman Jr. of Niskayuna, N.Y., representing Fonda with 633 points ($600) and Delaware International Speedway regular Scott Hitchens of Dagsboro, Del. with 620 points ($500).
Finishing sixth through 15th, respectively, were Brandon Edgar of Lehighton, Pa., from Big Diamond with 607 points ($450); Bridgeport Speedway's Jim Gallagher Jr. of Beckett, N.J., with 602 points ($400); Rocky Warner of Gloversville, N.Y., from Glen Ridge Motorsports Park in Fultonville, N.Y., with 594 points ($350); Kenny Hammond of Berkshire, N.Y., representing Thunder Mountain Speedway in Center Lisle, N.Y. with 593 points ($300); Bridgeport's Eric Kormann of Vineland, N.J. with 592 points ($250); Dennis Clapperton of Masonville, N.Y., from Afton (N.Y.) Motorsports Park with 590 points ($200); Fonda's Brian Calabrese of Johnstown, N.Y., with 588 points ($150); Delaware International regular Adam White of Laurel, Del., totaling 586 points ($100); Broadalbin, N.Y.'s Adam McAuliffe from Fonda Speedway with 585 points ($100); and Outlaw Speedway's Brian Fish of Burdett, N.Y., with 583 points ($100).
Like their Modified counterparts, Insinger Performance presented regional point funds for the Sportsman.
In the North Region, Schane ($500) won over Hartman ($400), Warner ($300), Hammond ($200) and Clapperton ($100).
The South Region went to Hendricks ($500) followed by Brightbill ($400), Hitchens ($300), Edgar ($200) and Gallagher ($100).
Drivers placing in the individual American Racer Cup home track standings will be rewarded, as well.
The top-five drivers in the Modified division at all home tracks receive five free tires for first, four for second, three for third, two for fourth and one for fifth.
In the Sportsman division, home track champions receive two tires, second-place one tire and third $85 off a tire certificate.
All certificates will be ready for pick-up at the American Racer Cup Short Track SuperNationals 12 to be held at Afton (N.Y.) Motorsports Park Friday-Saturday October 11-12. On Friday night (Oct. 11), Sportsman One-On-One Match Races will be held, with Modified Match Races on Saturday (Oct. 12).
Those unable to attend the Afton event will receive certificates in the mail after the Oct. 11-12 weekend.
The point fund will be distributed in late December/early January.
To learn more about the American Racer Cup presented by Sunoco Race Fuels and to view complete point standings, visit the official website at www.theamericanracercup.com.