Stewart Friesen (Modified) & Brian Hirthler (Sportsman) Top 2020 American Racer Cup Standings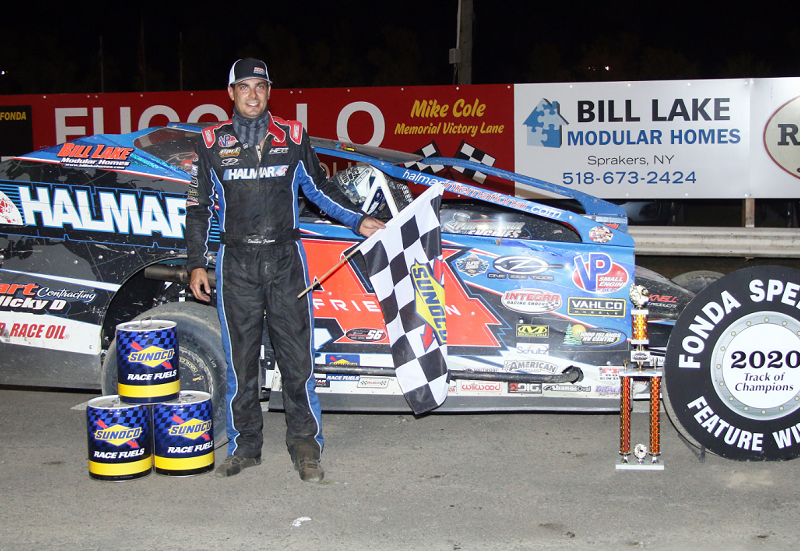 INDIANA, PA – In an abbreviated – albeit intense – season, the 2020 American Racer Cup presented by Sunoco Race Fuels champions have been crowned.
Stewart Friesen, representing N.Y.'s Fonda Speedway in the Modified division, and Brian Hirthler of the Grandview Speedway (Bechtelsville, Pa.) Sportsman class have taken top honors in the Cup for this season as overall champions.
Despite a shortened year that for many tracks did not begin until mid-June, and for others did not get the green flag at all, administrators of the American Racer Cup opted to move forward with the program offering $21,375 in cash plus tire certificates to racers.
The '20 American Racer Cup utilized each registered driver's six-best finishes (in lieu of the usual 10) plus a sliding scale of bonus points tied to the home track's average season-long car count.
Friesen, of Sprakers, N.Y., enjoyed a perfect year at Fonda Speedway, winning in every one of his eight starts to date at the Montgomery County facility. Friesen will take home $5,000 for his efforts on behalf of presenting sponsors American Racer, distributor Lias Tire of Indiana, Pa., Sunoco Race Fuels and distributor Insinger Performance of Dushore, Pa.
Friesen, 37, had never previously won an American Racer Cup overall title in the program's decade-long existence.
Friesen accrued a total of 460 points to narrowly edge Matt Sheppard of Savannah, N.Y., representing Outlaw Speedway in Dundee, N.Y.
Both Friesen and Sheppard notched 360 points with six wins. However the car count bonus – 100 for Fonda, 80 for Outlaw – tipped the scale in Friesen's favor.
Sheppard (440 points) receives $2,500 cash for placing second. Sheppard had won the overall crown in each of the last three years.
Craig Von Dohren of Grandview Speedway, Mike Gular of Big Diamond Speedway in Minersville, Pa., and Billy Van Pelt of Woodhull (N.Y.) Raceway ended in a three-way tie for third with 430 points.
Van Pelt's six Woodhull feature wins place him third ($2,000), while identical six-race efforts leave Von Dohren and Gular in a tie for fourth ($1,500 each).
Finishing sixth through 15th, respectively, were Alex Yankowski of Big Diamond (427 points – $1,000); Duane Howard of Grandview (423 – $875); Brett Kressley of Grandview (420 – $750); Jeff Strunk of Big Diamond (419 – $625); Craig Von Dohren at Big Diamond (418 – $500); Gular at Grandview (416 – $450); Cory Costa of Woodhull (415 – $400); Jordan Watson of Delaware International Speedway in Delmar, Del., (415 – $350); Brett Tonkin from Penn Can Speedway in Susquehanna, Pa. (411 – $300); and Michael Maresca from Fonda (406 – $250).
A total of $18,000 will be distributed to Modified American Racer Cup competitors for simply competing at their home tracks.
Perkiomenville, Pa.'s Hirthler receives $750 for his American Racer Cup Sportsman crown. Like Friesen, he took the title for the first time in his career. Hirthler earned 433 points, three more than his closest rival Brad Brightbill from the Big Diamond Speedway Open Sportsman division (430 points). Brightbill will receive $500.
Adam White of Delaware International breaks free from a tie with Steve Kemery of Bridgeport (N.J.) Motorsports Park for third position by virtue of his four wins for third. White will receive $375, with Kemery pocketing $300. Jim Housworth, from the New Egypt (N.J.) Speedway Open Sportsman division, is fifth with 420 points and receives $250.
Rounding out the top-15 were Mike Schane of Penn Can Speedway in Susquehanna, Pa., (420 points – $225); Brandon Edgar from Big Diamond Speedway Open Sportsman (414 – $200); Gary Smith representing Five Mile Point Speedway in Kirkwood, N.Y., (410 – $175); Brian Calabrese from Fonda Speedway (409 – $150); Dale Welty of Woodhull Raceway (403 – $125); Matt Brewer of Five Mile Point (402 – $100); Brad Arnold from Grandview (402 – $75); Jack Butler from Grandview (399 – $50); Tom Moore Jr. from Bridgeport (392 – $50); and Blaine Klinger from Five Mile Point (391 – $50).
A total of $3,375 will be distributed to American Racer Cup Sportsman competitors.
Every driver registering for a speedway that completed at least six events in '20 will receive a tire certificate in the mail (Modified – free tire; Sportsman – $85 off the purchase of a tire). Drivers registered for speedways not holding six events this year will receive a credit on their entry fee for next year.
The point fund will be distributed via mail in mid-December.
To learn more about the American Racer Cup, visit the official website at www.theamericanracercup.com, e-mail bdmotorsportsmedia@gmail.com, follow on Twitter @racer_cup or on like Facebook: American Racer Cup.