Stewart Friesen (Fonda) & Matt Janczuk (Utica-Rome) Earn American Racer Cup 2021 Top Honors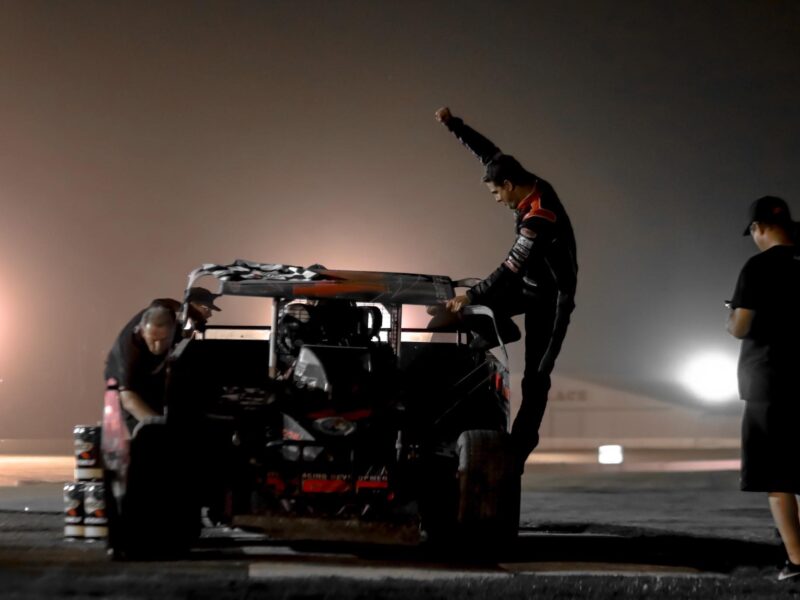 MILLSBORO, DE– Back-to-Back.
For the second consecutive season and the second time in his career, Sprakers, N.Y.'s Stewart Friesen claimed the American Racer Cup presented by Sunoco Race Fuels championship.
Friesen's dominant season at Fonda (N.Y.) Speedway, saw him reach the 'perfect 10' in the American Racer Cup season. The American Racer Cup collects each racer's 10 best finishes at their registered home track combined with a year-end starting field bonus to calculate a driver's total points.
The American Racer Cup season began way back on Friday, April 16 and concluded on Monday, September 6.
Friesen claimed exactly 10 wins at Fonda Speedway to go with Fonda's 100-point car count bonus to give him the maximum 700-point total. Friesen's season will award him a total of $11,000 from the American Racer Cup on behalf of presenting sponsors American Racer, distributor Lias Tire of Indiana, Pa., Sunoco Race Fuels and distributor Insinger Performance of Dushore, Pa.
Friesen also finished sixth overall via his Friday home track of Utica-Rome Speedway in Vernon, N.Y., for a total of $13,250 for choosing American Racer facilities as his weekly stops.
A $36,000 purse is dispersed between the top-15 drivers in the overall Modified standings with $10,000 reserved to Friesen, the overall champion. Friesen's dominance also claimed him $1,000 as the North Region champion of the American Racer Cup.
The overall runner-up came from Bridgeport (N.J.) Motorsports Park as Ringoes, N.J.'s Ryan Godown. Godown claimed seven wins in the American Racer Cup season giving him a 680-point season total. Godown pockets $6,000 as the overall runner-up and South Region champion.
Grandview Speedway (Bechtelsville, Pa.) regular Craig Von Dohren picked up six wins and three runner-up finishes, good enough for third in the overall American Racer Cup season with 675-points. Von Dohren's efforts will award him a $4,750 total.
Utica-Rome Speedway champion Matt Sheppard joined Von Dohren as a six-time winner at his registered home track. Utica-Rome's 90-point home track point bonus, opposed to Grandview's 100, left Sheppard five-points short of Von Dohren. Sheppard takes home a $4,250 total.
Von Dohren's fellow Grandview Speedway regular, Orefield, Pa.'s Brett Kressley rounded out the top five in overall standings with 656 points, and $3,000 total.
Finishing sixth through 15th, respectively, Stewart Friesen of Utica-Rome (653 points – $2,250); Billy Pauch Jr of New Egypt Speedway in New Egypt, N.J. (637 – $2,100); Rocky Warner of Fonda (635 – $1,850); Kevin Hartnett of Penn Can Speedway in Susquehanna, Pa. (632 – $1,500); Brian Malcolm of Penn Can (618 – $1,150); Mike Gular of New Egypt (618 – $1,150); Andy Bachetti of Utica-Rome (613 – $800); Ronnie Johnson of Fonda (611 – $700); Dominick Buffalino of Bridgeport (610 – $600); and Alex Yankowski of Bridgeport (603 – $500).
On the Sportsman side of the American Racer Cup, Utica-Rome Speedway champion Matt Janczuk was a nine-time winner, garnering him 695-points. Janczuk claims the overall championship worth $1,500 and the North Region title, for a grand total of $2,000.
Bridgeport Motorsports Park regular Sammy Martz Jr.'s career year in 2021 was good enough to make him the runner-up in the overall standings and the South Region champion with 660-points. Martz Jr.'s four wins and four second-place finishes will pocket him a total of $1,400.
Stephen Kemery, another Bridgeport Motorsports Park regular, rounded out the top three in the overall standings, just 14-points behind Martz Jr. Kemery will take home $1,050 from the American Racer Cup for his efforts.
Outlaw Speedway's (Dundee, N.Y.) Alex Payne finished with 634 points, good for $1,000 with regional money added in. Despite out-pointing Kemery based on finishes, Payne ends up 12-points shy of Kemery for third based on the car count bonus points (100 for Bridgeport, 80 for Outlaw).
Penn Can Speedway's Ray Leonard rounded out the top-five in Sportsman competition with 625-points, good enough for an $800 payout.
The remainder of the top-15 were Chad Edwards of Fonda (621 points – $650); Brett Tonkin of Afton Motorsports Park Crate Sportsman in Afton, N.Y. (614 – $500); Brian Hirthler of Grandview (608 – $650); Jim Rothwell of Afton Open Sportsman (607 – $300); Kyle Rohner representing Accord Speedway in Accord, N.Y. (602 – $250); Brian Calabrese of Utica-Rome (600 – $200); Payton Talbot, also of Utica-Rome (599 – $150); Dave Rosa of Afton Crate Sportsman (599 – $100); Mark Mortensen of Fonda (595 – $100); and Dave Rosa of Afton Open Sportsman (585 – $100).
Matt Ellery of Bridgeport was fourth in South Region standings, 16th overall, awarding him $200 and Ryan Simmons of New Egypt Speedway was 5th in the South Region, 17th overall, receiving $100.
The top-five drivers in the Modified division at all home tracks receive five free tires for first, four for second, three for third, two for fourth and one for fifth.
In the Sportsman division, home track champions receive three tires, second-place two tires and third receives one tire.
The American Racer Cup track champions are determined by a driver's 10 best finishes at that track.
More than $51,000 in cash will be distributed to American Racer Cup participants in December.
To learn more about the American Racer Cup presented by Sunoco Race Fuels and to view complete point standings, visit the official website at www.theamericanracercup.com.
AMERICAN RACER CUP TRACK CHAMPIONS:
Accord Speedway: Danny Creeden (Modified), Kyle Rohner (Sportsman)
Afton Motorsports Park: Nick Nye (Modified), Brett Tonkin (Crate Sportsman), Jim Rothwell (Open Sportsman)
Big Diamond Speedway: Alex Yankowski (Modified), Tyler Peet (Crate Sportsman), Doug Hendricks (Open Sportsman)
Bridgeport Motorsports Park: Ryan Godown (Modified), Sammy Martz Jr. (Sportsman)
Delaware International Speedway: Jordan Watson (Modified), Adam White (Sportsman)
Five Mile Point Speedway: Brian Malcolm (Modified), Ray Leonard (Sportsman)
Fonda Speedway: Stewart Friesen (Modified), Chad Edwards (Sportsman)
Grandview Speedway: Craig Von Dohren (Modified), Brian Hirthler (Sportsman)
New Egypt Speedway: Billy Pauch Jr. (Modified), Ryan Simmons (Sportsman)
Outlaw Speedway: Danny Johnson (Modified), Alex Payne (Sportsman)
Penn Can Speedway: Kevin Hartnett (Modified), Ray Leonard (Sportsman)
Utica-Rome Speedway: Matt Sheppard (Modified), Matt Janczuk (Sportsman)
Woodhull Raceway: Billy Van Pelt (Modified), Josh Keesey (Sportsman)